"Celebrating 25 Years of Quizzing"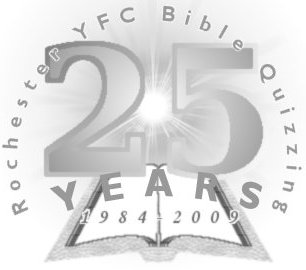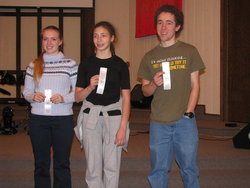 Interested in Bible Quizzing? Click here to learn more...
Registration is now STILL! open for the 2009-2010 season! Press this button to begin registering now ! You can also email your registration information to or mail registration forms to Karl Kirkman 7236 Hollyford Ln NW, Rochester, MN 55901
Find out more about Jump Start Quizzing!
Coming soon to the 2010-2011 season: Novice League Quizzing! Stay tuned...
Quizzing Schedule (2009-2010 Season)
Date/Newsletter
Quizzing Event
Results
Blue Sheets
OMC
Little League
(296 Verses)
A/B League
(694 Verses)
September 12th, 2009
Quizzing Season Kickoff "Open House" [Map] [More info...]
October 9th, 2009
Rochester YFC Bible Quizzing's 25th Anniversary Banquet
October 10th, 2009
Special Anniversary Monthly Quiz Meet and Pizza Party! (9am-7pm) [Map] [More info...]
LL
AB
LL
AB
LL
AB
1 Cor 1:1 - 2:16 (47)
1 Cor 1:1 - 6:11 (115)
November 14th, 2009
Regular Quiz Meet (1pm-5pm) [Map]
LL
AB
LL
AB
LL
AB
1 Cor 3, 6, and 8 (56)
1 Cor 6:12 - 11:16 (138)
December 12th, 2009
Regular Quiz Meet (1pm-5pm) [Map]
LL
AB
LL
AB
LL
AB
1 Cor 10 and 12:1-11 (44)
1 Cor 11:17 - 15:11 (113)
January 9th, 2010
Regular Quiz Meet (1pm-5pm) [Map]
LL
AB
LL
AB
LL
AB
1 Cor 12:12 - 13:13 and 15:1-11 (44)
1 Cor 15:12 - 2 Cor 2:4 (99)
January 15th-16th, 2010
Crown College Tournament (CC)
1 Cor 1:1 - 15:32
February 13th, 2010
Regular Quiz Meet (1pm-5pm) [Map]
LL
AB
LL
AB
LL
AB
1 Cor 15:12-58, 2 Cor 4:1-18 (65)
2 Cor 2:5 - 8:15 (119)
March 13, 2010
Regular Quiz Meet (1pm-5pm), Jump Start Quizzing (2pm-5pm) and Pizza Party [Map]
LL
AB
LL
AB
LL
AB
2 Cor 5, 6, and 7:1 (40)
2 Cor 8:16 - 13:14 (110)
March 26th-28th, 2010
Chicago Tournament
1 Cor 1, 2, 3, 10, 13, 15, and 2 Cor 5-6
1 Cor 1-16 and 2 Cor 1-2
June 24th-26th, 2010 (tentative)
WBQA Finals