"The answer is in the question"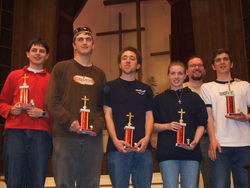 Youth for Christ sponsors a very active Bible Quizzing program in Rochester, Minnesota involving over one hundred children, teens and adults in friendly competition centered on God's Word.
Monthly tournaments are held October through March, usually at Emmanuel Baptist Church on the second Saturday of each month. Many quizzers also compete in other regional and national tournaments. Everyone learns and absorbs a lot of Scripture which stays with them all their lives.
What is Bible Quizzing?
The World Bible Quiz Association administers an eight-year cycle of New Testament books. Quizzers all over America and Canada study the same Scripture material and then join together to practice and compete at a Bible Quizzing tournament. The 2008-2009 quiz season covers the book of Luke.
In the News!
---
Thanks to everyone for a TERRIFIC 2008-2009 quizzing season--
---
Don't miss the Awesome 25th Anniversary Celebration planned for October 9th and 10th, 2009. Details to follow soon...
Who Can Quiz?
Quizzers of all ages and abilities have fun memorizing God's Word. Rochester's YFC Bible Quizzing program has two levels: Children from approximately third through sixth grade compete in the Little League while youth seventh grade and older compete in the A/B League. Younger children may compete in the A/B League, but older children may not compete in the Little League. Quizzers may compete as long as they are under 20 years old when the season starts.
What Happens at a Quiz?
Quizzing is excitement! Besides knowing the answer to a question, in order to be allowed to answer, a quizzer must be the first in his group to jump off his chair. An electronic console and seat pads identify the fastest jumper. Jumping is quite an art, and mastering it is an important part of quiz competition.
A quiz round consists of 20 questions taken from the book or books being studied. Each month the quiz covers more material than the previous month. Teams of two to four quizzers from area churches compete for points awarded for correct answers. For all the details, read the rules.
Quizzing Schedule (2008-2009 Season)
Date/Newsletter
Quizzing Event
Results
Blue Sheets
OMC
Little League
296 Verses
A/B League
779 Verses
October 11, 2008
Regular Quiz Meet (1pm-5pm) and Campfire
LL
AB
LL
AB
LL
AB
Luke 2:1-52
Luke 1:1 - 2:40
November 8, 2008
Regular Quiz Meet (1pm-5pm)
LL
AB
LL
AB
LL
AB
Luke 4:1-44
Luke 2:41 - 3:23, Luke 9:1 - 10:24
December 13, 2008
Regular Quiz Meet (1pm-5pm)
LL
AB
LL
AB
LL
AB
Luke 6:1-59
Luke 10:25 - 11:54, Luke 13:1 - 14:35
January 10, 2009
Regular Quiz Meet (1pm-5pm)
LL
AB
LL
AB
LL
AB
Luke 15:1-32
Luke 15:1 - 17:37
January 16-17, 2009
Crown College Tournament (CC)
Luke 1:1 - 3:23, 9:1 - 11:54, 13:1 - 17:37
February 14, 2009
Regular Quiz Meet (1pm-5pm)
LL
AB
LL
AB
LL
AB
Luke 23:1-56
Luke 4:1 - 7:17
March 14, 2009
Regular Quiz Meet (1pm-5pm) and Pizza Party
LL
AB
LL
AB
LL
AB
Luke 24:1-53
Luke 7:18 - 8:56, Luke 12:1-59
March 27-29, 2009
Chicago Tournament
Luke chapters 2, 4, 6, 15, 23, and 24
Luke chapters 1 - 13
June 25-27, 2009
WBQA Finals
Luke chapters 1 - 24